Sushant Singh Rajput suicide: Nawazuddin Siddiqui's brother Shamas claims 'there are people like Rhea Chakraborty, who blackmail people for money'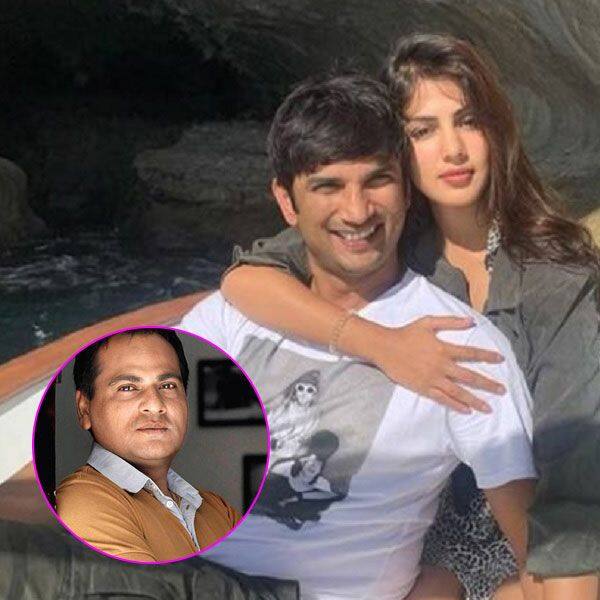 Nawazuddin Siddiqui's brother Shamas Siddiqui has reacted to Sushant Singh Rajput's case as yesterday late actor's father filed FIR against Rhea Chakraborty. SSR's father KK Singh has mentioned that she threatened his son to destroy his reputation in front of the public. Shamas claimed that there are many people like Rhea Chakraborty, who blackmail people for money and destroy their reputation on social media. He tweeted, "यहाँ पर बहुत सारे #rehachakraborty जैसे लोग हैं जो ब्लैक्मेल कर लोगों की मेहनत और इज़्ज़त पर पानी फेर देना चाहते हैं पैसा और सब कुछ हड़प कर लेना चाहते हैं। चाहे वो ब्लैक्मेल पर्सनली किया जाये या मीडिया और ट्विटर के द्वारा।" Also Read – Sushant Singh Rajput suicide: Ankita Lokhande tweets, 'Truth Wins', after FIR gets filed against Rhea Chakraborty
यहाँ पर बहुत सारे #rehachakraborty जैसे लोग हैं जो ब्लैक्मेल कर लोगों की मेहनत और इज़्ज़त पर पानी फेर देना चाहते हैं पैसा और सब कुछ हड़प कर लेना चाहते हैं।
चाहे वो ब्लैक्मेल पर्सनली किया जाये या मीडिया और ट्विटर के द्वारा।

— Shamas Nawab Siddiqui (@ShamasSiddiqui) July 28, 2020
The FIR filed by KK Singh has several sections of the Indian Penal code – 306 (abetment to suicide). 342 (wrongful confinement), 380 (theft), 406 (criminal breach of trust), 420 (cheating), 506 (criminal intimidation), 120 (criminal conspiracy). Also Read – WTF Wednesday: Team Kangana Ranaut calling Alia Bhatt a 'dumb bimbo' on her childhood pic and comparing it to that of Sushant Singh Rajput is the lowest ebb
Sushant Singh Rajput's father also mentioned the aspects, on which Rhea should be interrogated, as the FIR reads, 'Rhea, along with her family members and aides, cheated my son, committed fraud, and kept him confined. They forced my son to commit suicide and I pray that the following aspects be probed:
1: My son had no mental health issues till 2019. How did these crop up suddenly after he met Rhea?
2: If he was indeed suffering from such an ailment, why were we not contacted? Why was a no-objection letter from us for his treatment not sought?
3: We suspect the doctors who were treating my son at Rhea's behest were also involved in the conspiracy. We demand to know what was the line of the treatment and what medicines were prescribed to Sushant.
4: If Rhea knew that Sushant was not well, why did she break off with him and block him? This is the reason he committed suicide.
5: After going through my son's bank account details, I realised that he had around Rs 17 crore in his account number 10XXXXXX91, out of which Rs 15 crore were transferred into accounts that had nothing to do with him. We demand a probe into all bank accounts and credit cards my son had and how much money has been used.
6: Before this episode Sushant had a credible name in the acting profession. Why is it that after Rhea came in his life he stopped getting movies?
7: My son wanted to settle down in Coorg as a farmer but Rhea objected and threatened to finish him off. We demand a probe into this.
I tried to contact Sushant on several occasions, but being based in Patna, couldn't travel to Mumbai regularly. But Rhea and her family members blocked my attempts. I'm 74 years old, and I realise that the Mumbai Police, instead of bringing the main culprits to book, are investigating those who have little to do with this case. I pray that my complaint be looked into, and a SIT be set up to probe this." Also Read – Sushant Singh Rajput suicide: Did Mumbai Police ignore a warning given by his father in February about Rhea Chakraborty?
Stay tuned to BollywoodLife for the latest scoops and updates from Bollywood, Hollywood, South, TV and Web-Series.
Click to join us on Facebook, Twitter, Helo and Instagram.